Well well well...Wednesday you bring some really nice things today.
First and foremost it's HUMP DAY!! Whoot whoot! (I love that commercial with the camel...hope I am not the only one)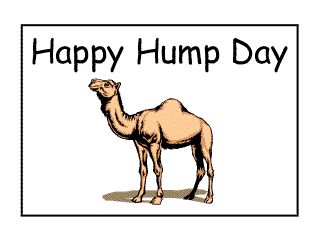 Second - We are that much closer to the weekend!! Yahoo!
Third - Hubby is having some of his cool cars on display tonight at one of our local car shows
Fourth - One day closer to our Vegas trip. Oh Las Vegas - how I have missed you!! We are down to 30..count 'em 30 days!! Yahoo!!!
Enjoy your day!!